Excessive amounts of downtime can easily cause clients to grow impatient and therefore lack reliance on your business. This is a common occurrence for businesses that need to relocate the office but lack professional business moving services. Throughout your office moving relocation process, Make a Move ensures your business remains operational. Our professional and experienced crews know exactly what it takes to make a moving experience smooth and stress-free.
Our team provides high-quality office moving services for Charlotte and all of the Charlotte Metropolitan Area.
As the #1 Charlotte office moving company in the region, our award-winning company offers the best service and some of the best rates in all of Charlotte. We put in 100% effort and skill for each and every one of our moves– everything from the office furniture disassembly to the unpacking. Our team is licensed, bonded, trained, and knows what it takes to easily help your business relocate into a new office. On the hunt for the best office movers near you? Allow Make a Move to finish the job quickly and on time. 
WHY HIRE MAKE A MOVE AS YOUR PROFESSIONAL CHARLOTTE OFFICE MOVING COMPANY
Just like operating a business or working a full-time job, successful office moves require a ton of planning, expertise, and time.
No two office moves are exactly the same and each comes with its own requirements and challenges. This is why we offer customized Charlotte office relocation services in order to satisfy your budget, meet all your individual needs, and reduce downtime. 
Dealing with the entire office move on your own can be backbreaking and downright dangerous for everyone involved. Damages and/or injuries can end up costing you much more than if you hire Charlotte office relocation services. This wise decision will ultimately help to reduce downtime and decrease stress on you and your employees. An experienced crew will handle all the complex details for you– everything from the packing to the transporting to the unloading and arranging. 
Here are the main types of office moves we can assist with:
For companies of all sizes, our office relocation coordinators come up with a comprehensive plan for each office move.
There is no such thing as an office move that is too large for our team to handle. Allow us to conveniently manage your large office relocation.
Office equipment relocation
The safety of your belongings is our top priority. Commercial office movers undergo strict measures to ensure your walls, floors, doors, and other vulnerable areas remain unscratched while we relocate your office equipment. 
Office furniture & cubicle relocation & assembly
Our Charlotte office movers are highly experienced with moving numerous types of furnishings such as desks, filing cabinets, cubicles, and workstations.
Need extra space? Our climate-controlled warehouse will safely accommodate your office items.
Packing is very strenuous and time-consuming. Our expert packers will take care of the packing for you.
Thanks to our specialized and up-to-date equipment, we help thousands of employees receive easy office and cubicle relocations throughout the entire Charlotte Metrolina. This office moving equipment includes, but is not limited to:
Are you in need of packing help for your Charlotte office move? Amongst other things, our expert team further specializes in taking down and rebuilding cubicles, disconnecting computer systems, working with data wires, and unplugging and packing telephone systems and fragile office electronics. We ensure every box is labeled to prevent confusion and save time following arrival. To lessen stress on employees, we appreciate the packing services to be added to your relocation package prior to the moving day. 
The thought of relocating your office, employees, and workstations can be overwhelming. However, our Charlotte office movers develop and utilize an all-inclusive office move project plan to ensure everything goes as planned. This includes an office relocation checklist before the transferring day which ensures nothing gets missed or overlooked. You can expect a fast and easy relocation that allows your employees to quickly settle in their new workspaces.
Charlotte Office Relocation Tips
You've probably wondered what the best approach is to relocate your business. By utilizing expert methods, experienced Charlotte relocation companies end up saving you time, energy, and money. Take a look at the following office moving tips:
To inform your employees of the location change, it's recommended to send out a letter or email plenty of time in advance. To help you out, you can use this office relocation announcement template. Additionally sending out a variation letter is advised if you have a customer mailing list.
It's much easier when your movers know where to put each box or crate in the new location. Use this color-coding system to assign a different color for each department or floor. 
Moving Expense Capitalization
Can your office move expenses be capitalized? Well, some allow for this and others do not. For an explanation, click here.
How to Estimate a Charlotte Office Move
Having an understanding of your budget is one of the most crucial steps in planning your business move. Being that every move is unique, the final custom office move quote you receive is based on factors such as:
Accessibility of the two office buildings

Number of crew members are required to get the job done

Amount of supplies and special equipment needed

How many miles between the current and new office

Type of business & volume of items to transfer

Storage services requested

Special prep and additional services needed
With nearly a decade of experience, Make a Move accomplished over 2,000 moves each year within the Charlotte Metropolitan Area. When you hire our 5-star team, you can enjoy a budget-friendly and affordable Charlotte office moving experience.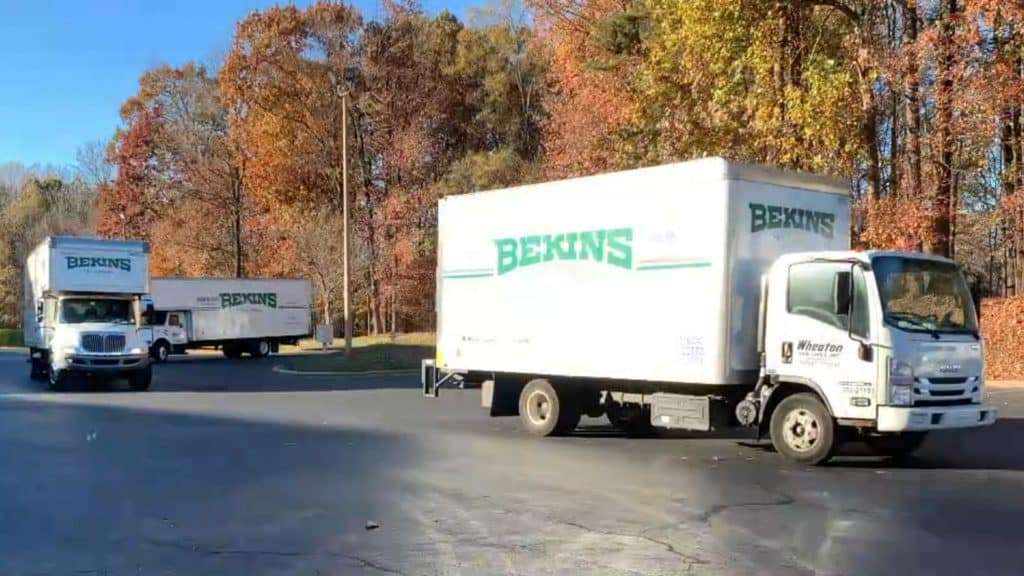 Get Your Free Charlotte Office Moving Quote Today!
If you're moving your office to or from or within Charlotte and all of the Charlotte Metropolitan Area, call Make a Move or fill out our "Get a Free Quote" form online! We're the best office movers in Charlotte!