Make A Move understands that moving is stressful, especially when it comes to moving to a new city or town. We have the necessary experience and training to make your relocation seamless. We service Charlotte and all of the Charlotte Metropolitan area. As a professional and affordable in-state moving company, we will be there for you every step of the way.
What Is A North Carolina Intrastate Move?
An intrastate or intra-state move means you're relocating within the state (a.k.a. North Carolina) and not going outside state lines. It's essential to note that it's a move that's more than 100 miles from your current location to your new home.
Now, you might wonder what makes interstate different from intrastate, and the short answer is that an interstate move means you're relocating outside state lines.
Some of the main reasons why someone looks to move somewhere else in the state include: being closer to family, relocating for a job, wanting to own a home rather than renting, attending college, health reasons, or looking for a climate change.
Every state is different when it comes to licensing requirements–some don't even require a mover to be licensed, but North Carolina does. Make A Move has the proper licenses, are a certified NC mover, and is registered with the North Carolina Utilities Commission.
If you're looking for a Charlotte local move, click here, and if you're looking for a Charlotte long-distance move, click here.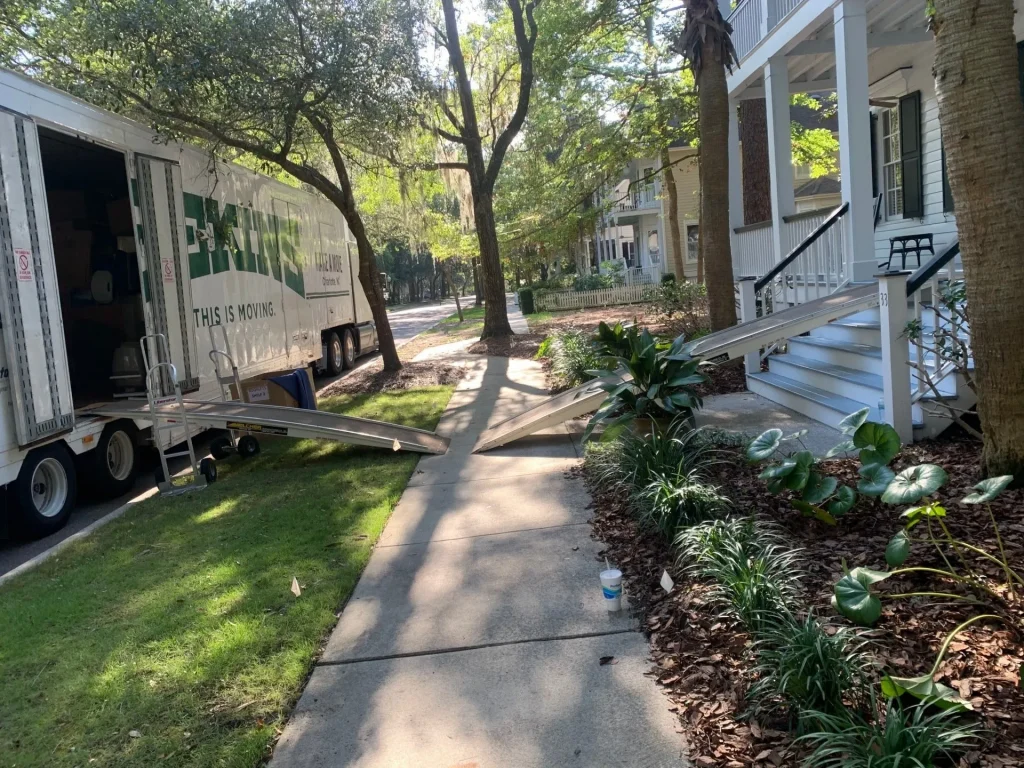 How To Move Within North Carolina With Make A Move
The #1 way to move within the state of North Carolina is to hire a full-service intrastate moving company. Now, you might be wondering what gets included and how it works. To help you better understand, here is a list of services you get with Make A Move:
Some of the additional benefits of hiring an experienced Charlotte area intrastate mover include:
As a reliable and professional intrastate moving company located in Charlotte, we have your back and are here to provide one-of-a-kind service.
How Much Is A North Carolina Intrastate Move
The final price for an North Carolina Interstate relocation is different for everyone, but Make A Move provides affordable moving options that fit any budget. While most of the price for an intrastate relocation comes from the weight of the entire shipment and the distance from your current location to your new home, there are some additional factors and variables that can influence your final cost including the following:
If you need storage (short and long-term)
The weight and/or volume of your belongings
If you request additional services such as packing and unpacking
The time of year you decide to relocate. For example, the winter or fall months are cheaper than the summer months. And the weekdays cost less than weekends.
When you call, please provide as much information as possible so we can give you an accurate quote. The information can range from when you decide to move, the size of your home, how much you plan to relocate to your new residents, and if you have any additional services like storage or packing.
Remember, each relocation is different and unique, which means the prices will vary. If you're interested in learning more about the breakdown of our costs, contact our team for an accurate in-home or virtual estimate!
Choosing The Best North Carolina Intrastate Movers
When choosing to work with the #1 in state moving company in all of the Charlotte Metropolitan Area, you can rest assured knowing that you'll only receive the BEST moving services out there. Here are some of the top questions to ask:
What are your Google Reviews?
What is your claim rate?
Are you fully insured?
Do you have the proper licenses?
On average, how many intrastate moves do you perform each year?
How long have you been in business?
Do you have GPS on your trucks? If so, can I track the truck on the day of the relocation?
Make A Move has a team of experts that are dedicated and focused on providing grade-A relocation services! We promise to be there every step of the way and to make this cross state relocation seamless. When it comes to aspects that help our company be unique and stand out, here are a few examples:
As the winner of the award, Mover Of The Year in 2020, Make a Move has been serving clients for the past 8+ years. With more than 2,200 relocations a year, our expert team has the necessary experience and training to make your intrastate move go smoothly.
Make a Move is a certified Charlotte, North Carolina, intrastate mover and an agent of Bekins Van Line, and we are here to ensure your relocation is seamless. To learn more about our affordable same state services, call us at (704) 378-8588 for a free estimate!