The rapidly-growing town of Huntersville, NC is located about 14 miles north of downtown Charlotte. It is bordered by Charlotte, Concord, Cornelius, Kannapolis, Mount Holly, Davidson, Harrisburg, Mooresville, and Stanley.
Getting its start as a cotton farming town, the area was originally known as Craigshed. It was later renamed Huntersville in memory of Robert Boston Hunter who was the most prominent cotton farmer and landowner in the community. Huntersville was officially incorporated as a town in 1873.
Known for its many popular outdoor recreation activities, Huntersville is close to the man-made Lake Norman.
A few of the notable people who have lived in Huntersville are country singer Luke Combs, former WNBA player Andrea Stinson, and actress Reneé Rapp as well as a handful of NASCAR drivers including Blake Koch, Harrison Burton, Daniel Suárez, and Jim Vandiver.
Is Huntersville a good place to live? There are many benefits of moving to Huntersville as you learn more about the town's culture, fun things to do there, and the top-rated schools.
1. People Living in Huntersville, NC – Population & Demographics
How many people live in Huntersville? The town has seen massive growth in the past 30 years with more than 57,000 new residents relocating to Huntersville. The Huntersville population is 59,870 residents with a median age of 37 years old.
Huntersville demographics are made up of about 75% Caucasian, 12% Black or African American, 7% Hispanic or Latino, and 3% Asian. The town's gender ratio is closely split between 51% female and 49% male. The median household income in Huntersville is $102,016, making it an affluent community of people.
Covering a geographical area of about 40.7 square miles, Huntersville is in the northern part of Mecklenburg County. The town zip codes include 28031, 28078, and 28216. Its main area code is 704.
The time zone in Huntersville is Eastern Standard Time (EST) but it also changes to Eastern Daylight Time (EDT) when daylight savings time rolls around. There is an average elevation of 810 feet in the area.
Is Huntersville a safe place to live? Ranked as the 8th safest city in North Carolina, the crime rate in Huntersville is 29% lower than the national average. The violent crime rate is about 64% lower than average, proving that Huntersville is a safe place to live.
With 91 active police officers on the local force, residents living in Huntersville are served and protected by the Huntersville Police Department.
2. Cost of Living in Huntersville, NC
How much does it cost to live in Huntersville, NC? The average cost of living in Huntersville is 10% higher than the national average and about 20% higher than the North Carolina state average. Lower prices can be found in the area for healthcare and utilities, but expect to pay more for groceries, transportation, and the Huntersville real estate market.
The homeownership rate in Huntersville is 74.7% as most people buy when moving to town. As you look through Huntersville, NC homes for sale, you'll find locations that range from small single-family homes up to multi-million dollar Victorian-style properties.
The average price of a home in Huntersville is $420,000. The Huntersville property tax rate is 1.050%, which means an average-priced location will have about $4,410 in annual property taxes.
The remaining 25% of residents living in Huntersville rent instead of buying. The average price of rent in Huntersville is $1,444 per month, an estimated 17% increase over the past 12 months.
3. Huntersville Neighborhoods
Where should you live in Huntersville? Since it covers a large area, the community offers a wide variety of top-rated neighborhoods in Huntersville including:
Eastfield

Highland Creek

Mountain Island

North Lake
The town of Huntersville operates ten local parks, which feature everything from playgrounds to open green spaces for people of all ages to enjoy. These destinations are maintained by the Huntersville Parks & Recreation department.
4. Huntersville, NC Weather & Climate
The subtropical climate in Huntersville means a decent amount of annual rainfall and varying temps throughout the year. Huntersville weather gets an average of 43 inches of rain each year along with about 3 inches of snow.
The average temperature in Huntersville during winter is between the low 30s and mid-50s. Summers in the area vary from lows in the 70s to highs in the 90s on average.
5. Things to Do in Huntersville
People relocating to Huntersville will find the community hosts a plentiful amount of fun activities, top-rated places to visit, and interesting attractions.
If you're looking for family-friendly points of interest in Huntersville, one of the top spots to hang out is Spare Time. This popular bowling alley offers numerous lanes, food, drinks, and a large video game arcade.
Spare Time Huntersville, 16317 Statesville Rd, Huntersville, NC 28078  (704) 892-7177
View this post on Instagram
A can't miss thing to do in Huntersville is Frankie's of Charlotte, a large fun park with loads of exciting activities for everyone. Visitors to this exciting attraction can experience go-karts, a mini-golf course, laser tag, bumper cars, and more.
Frankie's of Charlotte, 10621 Bryton Corporate Center Dr, Huntersville, NC 28078  (704) 875-7888
There is lots of convenient shopping in Huntersville with places like Walgreens, Target, Walmart, Kohl's, Whole Foods, and the Northcross Shopping Center.
Additional Huntersville Attractions
6. Huntersville Restaurants
As you look through the top restaurants in Huntersville, there are a few spots that are popular among the locals.
One of Huntersville's top places to eat is Pinky's Westside Grill, a local chain offering delicious American dishes. The highly-rated restaurant features a menu of tasty hot dogs, tacos, and more along with refreshing cocktails and soft drinks.
Pinky's Westside Grill, 9818 Gilead Rd STE 101B, Huntersville, NC 28078  (704) 727-0142
View this post on Instagram
Among the best Huntersville restaurants, Duckworth's Grill & Taphouse is widely recognized as the top local pub. Their mouthwatering menu of pizza, burgers, fajitas, and BBQ makes it a hot spot for hungry residents around town.
Duckworth's Grill & Taphouse Huntersville, 16609 Statesville Rd, Huntersville, NC 28078  (704) 237-4387
7. Jobs in Huntersville
A look through Huntersville jobs will lead you to some well-known companies as well as local businesses that offer strong career opportunities. Some of the best places to work in Huntersville include:
Metrolina Greenhouses

Parks Chevrolet at the Lake

PlayPower
The average salary in Huntersville is $67,000 per year. The town's state income tax rate is a flat rate of 5.25%. The Huntersville unemployment rate is currently around 4.7%.
A large portion of the area's workforce commute from Huntersville to Charlotte, a trip that covers about 14 miles and takes about 20 minutes each way.
8. Huntersville Schools
Making up more than 31% of the town population, about 18,560 children between the ages of 0 and 18 years old are living in Huntersville. The area's many kid-friendly amenities and safe communities are part of the reason why Huntersville is an excellent place for families to live.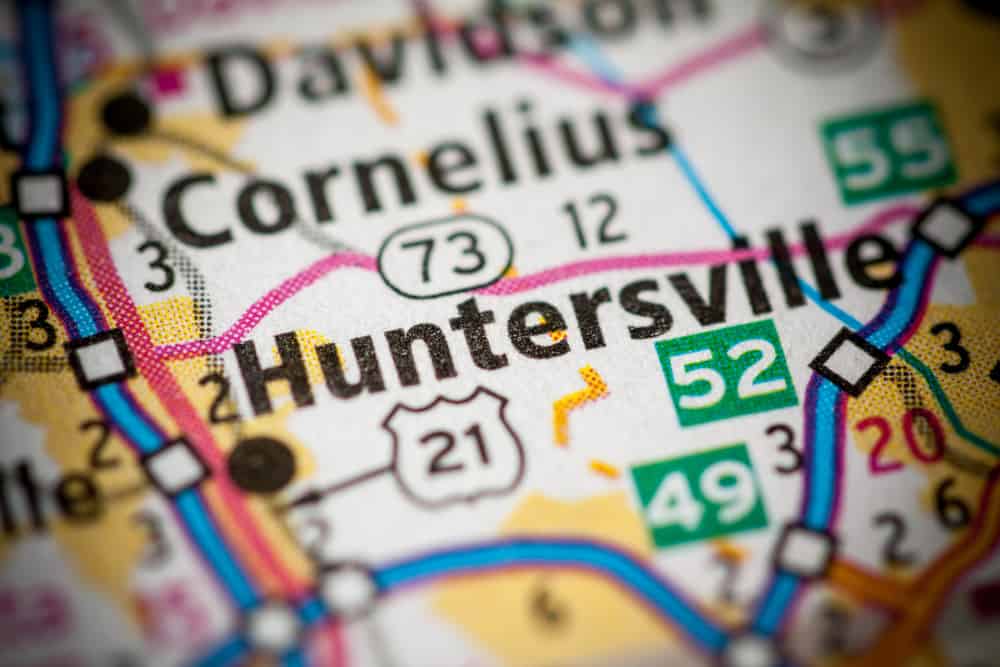 As part of the Charlotte-Mecklenburg School District, the top schools in Huntersville include:
Huntersville Elementary School

Francis Bradley Middle School

Lake Norman Charter School

(ranked 11th top school in North Carolina)

Merancas Middle College High School
The colleges and universities near Huntersville are Davidson College and Johnson C. Smith University.
Everyone from young students to seniors in the area also has free access to the local North County Regional Library for books, movies, and other items that can be checked out.
Map of Huntersville, NC
This helpful Huntersville map will assist you in finding other great things to do and other activities available around town.
Living in Huntersville Pros & Cons
Pro:

Among the safest cities in the state of North Carolina, Huntersville offers a secure community for its residents.

Pro:

Plenty of fun activities and great places to eat are available all over the area.

Con:

The town's cost of living is a bit higher than both the national and state average.
Moving to Huntersville, NC
Once you've looked through all of these great reasons to move to Huntersville, it won't come as a surprise if you decide it's the right place for you. Trust the professional Huntersville movers here at Make A Move if you'd like to get assistance with your upcoming relocation! Call us today at (704) 378-8588 or fill out the Request a Quote form on this page for a free moving estimate!