Fort Mill, also known as Fort Mill Township, is a small and friendly town in South Carolina. As a suburb of Charlotte, North Carolina, the town of Fort Mill is home to numerous notable businesses, historical places, attractions, and amenities that lucky residents can take advantage of. Fort Mill is known for its peach orchards, extensive nature preserve, and the beautiful massive greenway in the heart of the town. Known to be a safe and welcoming place to raise a family, Fort Mill has tons of green space, lots of well-maintained parks, a top-rated school system, great restaurants, and even a golf course! Fort Mill was established in 1873 and later became famous for the well-known former theme park called Heritage USA. Today, Fort Mill is recognized for being home to the Carolina Crown– a competitive drum and bugle corps, and the PrimeTime Players– a Minor League Basketball. The lovely town of Fort Mill is ideal for those seeking proximity to Charlotte while being surrounded by the beautiful trees, quaint shops, and quiet serenity of the suburban lifestyle.
Where is Fort Mill?
The town of Fort Mill is situated in York county on the far Northern edge of South Carolina. Fort Mill is a suburb of Charlotte, North Carolina, and Rock Hill, South Carolina. Bordered by the community of Riverview to the west and Indian Land to the east, Fort Mill sits just north of the enchanting Catawba River.
Although there isn't much public transportation within the city limits, you'll only have to drive about 3 miles south along US-21 to get to the nearest bus stop.
Fort Mill Population & Demographics
According to the U.S. Census, Fort Mill has a rapidly growing population of 24,521 which has increased by 126.8% since 2010. 4.6% of residents in Fort Mill are foreign-born whereas 95.7% have attained a high school diploma or higher, and 51.1% have earned a bachelor's degree or higher. The Fort Mill median household income is $101,699– nearly double the state average of $54,864.
Fort Mill has been called home by several notable people such as Miss USA 2019, Cheslie Kryst, and NASCAR on Fox reporter Steve Byrnes.
The Fort Mill, SC population has relatively diverse racial demographics with whites making up 74.1% of the population, black making up 13.8%, Hispanics at 6%, and Asians at 1.3%. Likewise, 51.4% of the Fort Mill population is female which leaves 48.6% male.
According to the FBI, you have a 1 in 83 chance of becoming a victim of crime while living in Fort Mill. The U.S. average is 1 in 40 which means Fort Mill is twice as safe as the average U.S. city. The crime rate in Fort Mill is 1,202 per 100,000 residents; the national crime rate is 2,477. Considering this, Fort Mill is a very safe place to live. If you do ever need help, all 54 sworn officers of the Fort Mill Police Department will have your back covered.
Cost of Living in Fort Mill
A family of four living in York County should be making $79,274 according to the Economic Policy Institute. The cost of living in Fort Mill is about 6% higher than the U.S. average. With that said, Fort Mill is a relatively affordable place to live in. Additionally, the Fort Mill sales tax rate and income tax rate sit both at $7% which is just 1% above the state average. According to Redfin, the Fort Mill median home price comes in at $475,000. If you're hoping to settle in this town, try searching online for Fort Mill, SC homes for sale. If signing a lease more up your alley, the Fort Mill South Carolina average apartment rent comes in at $1,611 on Rentcafe.
Fort Mill Typical Living Expenses
This is a list of Numbeo's typical living expenses in Charlotte– the nearby big city. Considering this, the prices below may slightly differ from the exact prices in Fort Mill.
Fort Mill average utilities per month: $153.62
Internet: $69.09
Gallon of gas: $3.80
Gallon of milk: $3.21
One dozen eggs: $2.19
Fort Mill Neighborhoods | Where to live in Fort Mill, SC
The Fort Mill real estate is home to numerous lovely neighborhoods and subdivisions. Many neighborhoods in Fort Mill provide a small-town life with unlimited options for amenities and outdoor activities. Check out some of the best neighborhoods in Fort Mill below!
Baxter Village | Most Desirable & Family Friendly Neighborhood in Fort Mill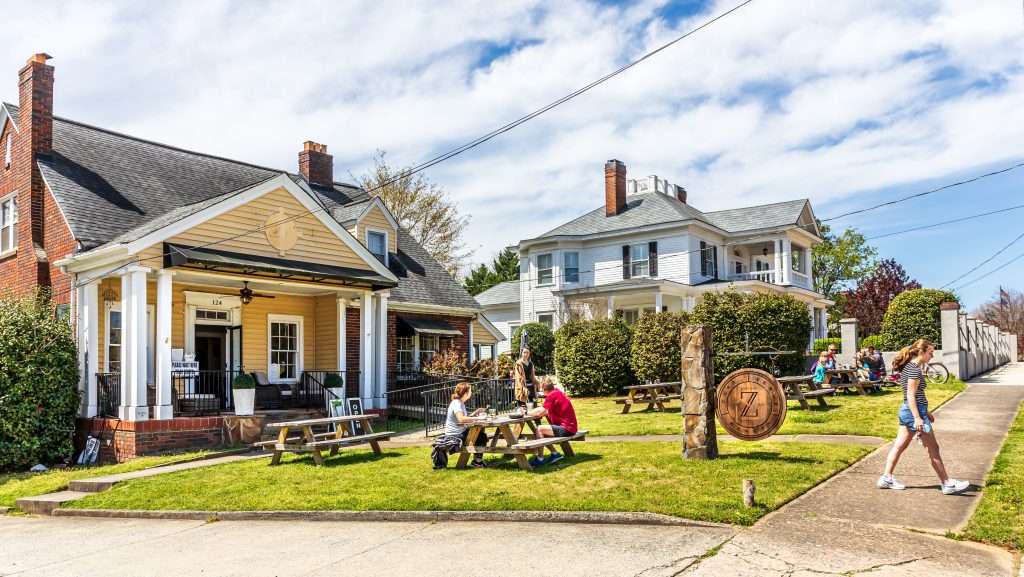 This neighborhood in Fort Mill is known for its upcountry architecture and family-friendly atmosphere. Baxter Village provides easy access to Lake Wylie, and the Catappa River, and it even has a fun main street filled with restaurants, boutiques, and the iconic SC Strawberry Festival! Townhouses and single-family homes here range from $300,000-$600,000.
Mason's Bend | Top Fort Mill Neighborhood for Outdoor Activities and Golfing
Being next to the Catabwa River, the neighborhood of Mason's Bend offers access to water activities like fishing and kayaking and nature reserves for hiking and biking. You'll also be close to the Fort Mill Golf Club! Homes here sell for $300,000-$900,000
Fort Mill Weather & Climate
With a humid subtropical climate, Fort Mill experiences hot summers with highs of 90°F and cold, wet winters with lows of 31ºF. You'll need sunglass during the 211 days of sunshine, and a raincoat throughout the 44 inches of annual rainfall. With spring and fall as the most pleasant seasons, the best months to visit Fort Mill, SC are in May, September, and October.
View this post on Instagram
Things to Do in Fort Mill
View this post on Instagram
The town of Fort Mill is loaded with fun places to go! If you're in the mood for spending some birthday cash, Kingsley Town Center, Baxter Town Center, and The Shoppes at Towne Square are the best shopping centers in Fort Mill! Check out more fun things to do in Fort Mill below!
This family-friendly park features a walking trail, green space for festivals, and a playground to take the kids!
345 N White St, Fort Mill, SC 29715, (803) 547 2273
This exciting performing-arts venue is the perfect place to take the family! They offer dinner Christian-based shows, mystery theater, and camps!
3327 SC-51, Fort Mill, SC 29715, (803) 802 2300
Additional Attractions in Fort Mill
The parks and outdoor facilities in Fort Mill are maintained by the Fort Mill Parks and Recreation department. If you want to tune in on Fort Mill, SC events, click here.
Fort Mill Restaurants
Check out some of the best places to eat in Fort Mill below!
Fort Mill Family Restaurant. Delicious Family Restaurant with tasty home-cooked food, good prices, and friendly service. Fort Mill Family Restaurant, 1358 SC-160, Fort Mill, SC 29715, (803) 548 2336.
Local Dish. Quaint restaurant with Southern-style meals, sandwiches, and salads. Local Dish, 217 Main St, Fort Mill, SC 29715, (803) 547 2201.
Blacow Burger – Fort Mill. Relaxed and casual restaurant serving tasty burgers, fries, and shakes. Blacow Burger – Fort Mill, 1646 SC-160 Suite 106, Fort Mill, SC 29708, (803) 547 1122
Jobs in Fort Mill, SC
If you're thinking about working here, Fort Mill has experienced a 1.6% job increase in the last year which is higher than the U.S. average. According to Payscale, Fort Mill has an average base salary of $66,000 and an average hourly rate of $16.65. Some of the notable and top businesses that Fort Mill is the headquarters of are LPL Financial, CompuCom Systems, Diversey, Inc., and Shutterfly. A few of the most popular job positions in Fort Mill include customer service representatives and registered nurses. If seeking employment, try searching online for jobs in Fort Mill, SC.
If you'd rather commute to the city of Rock Hill instead of Charlotte, the distance from Fort Mill to Rock Hill, SC is just over 8 miles southwest.
Fort Mill Schools
Fort Mill is served by the York County School District 4– home to 17 schools and nearly 17,000 students. Along with a student-teach ratio of 15.17, the school district includes Fort Mill High School which has been recognized as one of the country's best high schools by the United States Department of Education.
Whether you need quiet studying time or a new book, the Fort Mill Library will serve you six days a week!
Fort Mill Statistics & Information
Fort Mill of York County has a land area of 19.9 square miles and a population density of 1,232 people per mile. The town of Fort Mill has an elevation of 623 feet and the zip codes 29715, 29716, and 29708. With area code 803, Fort Mill is within the Eastern Time Zone. The nearest large airport to Fort Mill is the Charlotte Douglas International Airport (CLT) which is 20 miles north.
Fort Mill Map
Explore even more fun things with this map of Fort Mill below!
Pros & Cons of Living in Fort Mill
Pro: There are plenty of outdoor amenities and activities for everyone!
Pro: You can relax knowing there is a low amount of crime.
Con: There are about 14 more inches of annual rainfall than the average U.S. city.
Thinking about moving to Fort Mill? Reach out to Make a Move at 704-378-8588 for the best movers in Fort Mill!