Thinking about living in Charlotte? Ranked as one of the best places to live in the United States, the city is growing and thriving. Known as a hub for business, finance, sports, and education, Charlotte possesses a myriad of exceptional qualities. The area was given the nickname the "Queen City" because it was named after Charlotte of Mecklenburg-Strelitz (Queen Charlotte), Queen Consort of Great Britain and of Ireland. Charlotte is located in Mecklenburg County, which also shares its namesake with the Queen. The area was founded in 1755, and later incorporated in 1768.
Where is Charlotte?
Charlotte is in Mecklenburg County, located on the far southern side of the state. It is equidistant to many of the largest cities in both western and central North Carolina. Charlotte is part of a large metro area, and sits along the North Carolina/South Carolina border. It is close to cities such as Fort Mill and Waxhaw.
Plan on traveling to nearby cities as a new resident? One of the most popular drives is to Raleigh. It is 165.9 miles from Charlotte to Raleigh. In average traffic, this equates to about a two hour and 40 minute trip.
Charlotte Information
County: Mecklenburg County
Area: 309.25 square miles
Zip code: 28201-28299
Area code: 704, 980
Elevation: 761 feet
Time zone: Eastern (EST)
Closest airport: Charlotte Douglas International Airport (CLT)
Charlotte Population and Demographics
The population of Charlotte is 874,579.  The population of the entire Charlotte metro is 2,660,329. Since 2010, the population has grown by 143,155, reflecting a significant interest in the area. The current population density is estimated at 2,833.6 people per square mile. Charlotte is the largest city in North Carolina (by population). It is also one of the fastest growing cities in the entire state.
A number of famous individuals have lived in Charlotte. Notable residents of the past and present include Dwayne 'The Rock' Johnson, Rapper DaBaby, and NBA player Stephen Curry.
Percentage of men vs women: 48 percent male, 52 percent female
Median age: 34.4
Racial and ethnic composition: 46.7 percent White, 35.5 Black or African American, 14.6 percent Hispanic or Latino, 6.6 percent Asian, 4.1 two or more races, 0.4 percent American Indian or Alaska Native
Median household income: $65,359 (about 20 percent higher than the state)
Educational attainment: 89.4 percent with a high school diploma (or higher), 44.8 percent with a bachelor's degree (or higher)
Foreign-born population: 17.2 percent
Transportation
When living in Charlotte, it is easy to travel to nearby cities and states. The area serves as a hub that connects to multiple interstates. Interstate 485 forms a circle around the majority of the city, and links up with I-77, I-85, Highway 74, and several other major roads. Being connected to so many interstates and highways makes it easy for residents to drive throughout the city, as well as to nearby places such as Rock Hill, Greensboro, Spartanburg, and Asheville.
In the city, there are multiple forms of public transportation available. Bus and rail fares are available through the Charlotte Area Transit System. Close by, residents can fly in and out of Charlotte Douglas International Airport (CLT), which boasts a large number of domestic and international flights.
Cost of Living in Charlotte
The cost of living in Charlotte is lower than the U.S. national average, making it an affordable place to live. The city's composite cost of living index is 94.8, whereas the national average is at 100.
According to the Economic Policy Institute, a family of four would need to earn $85,510 per year to afford to live in Charlotte. Additionally, according to the MIT Living Wage calculator, a living wage for one adult with no children is $17.70 per hour.
Typical Charlotte Living Expenses:
Average Charlotte utilities per month: $149.49
Gym membership: $37.25 per month
Internet: $67 per month
Preschool, full day: $909.38 per month
Meal for two people at a mid-range restaurant: $60
(Source: Numbeo)
In the state of North Carolina, residents pay a flat 5.25 percent income tax rate. Looking to purchase a home? The Charlotte property tax rate is 0.9650. Additionally, the combined sales tax rate is 7.25 percent in the city.
Renting and buying a home in Charlotte is affordable. Median property prices throughout most parts of the city are often cheaper than most other cities of this size.
Charlotte Real Estate | Average Rent & Home Prices
If you are searching for Charlotte, NC homes for sale, there are plenty of sizes and styles available. Currently, the Charlotte median home price is $405,000. According to Redfin, this figure is less than the national average median home price of $430,695. The area is filled with both newer and more established homes. Buyers can choose between living in the bustling urban parts of Charlotte, or in the city's tranquil suburban neighborhoods.
Planning on renting upon your arrival? According to RentCafe, average rent in Charlotte is $1,559 per month for a 943 square foot apartment. However, it is important to be aware that this figure changes drastically depending on your chosen neighborhood. In Eastover, one of the city's most desirable communities, average monthly rent is $2,496. Other popular neighborhoods fetch a higher-than-average cost, including Uptown Charlotte ($2,045 per month), The South End ($2,033 per month), and Brookhill ($2,019).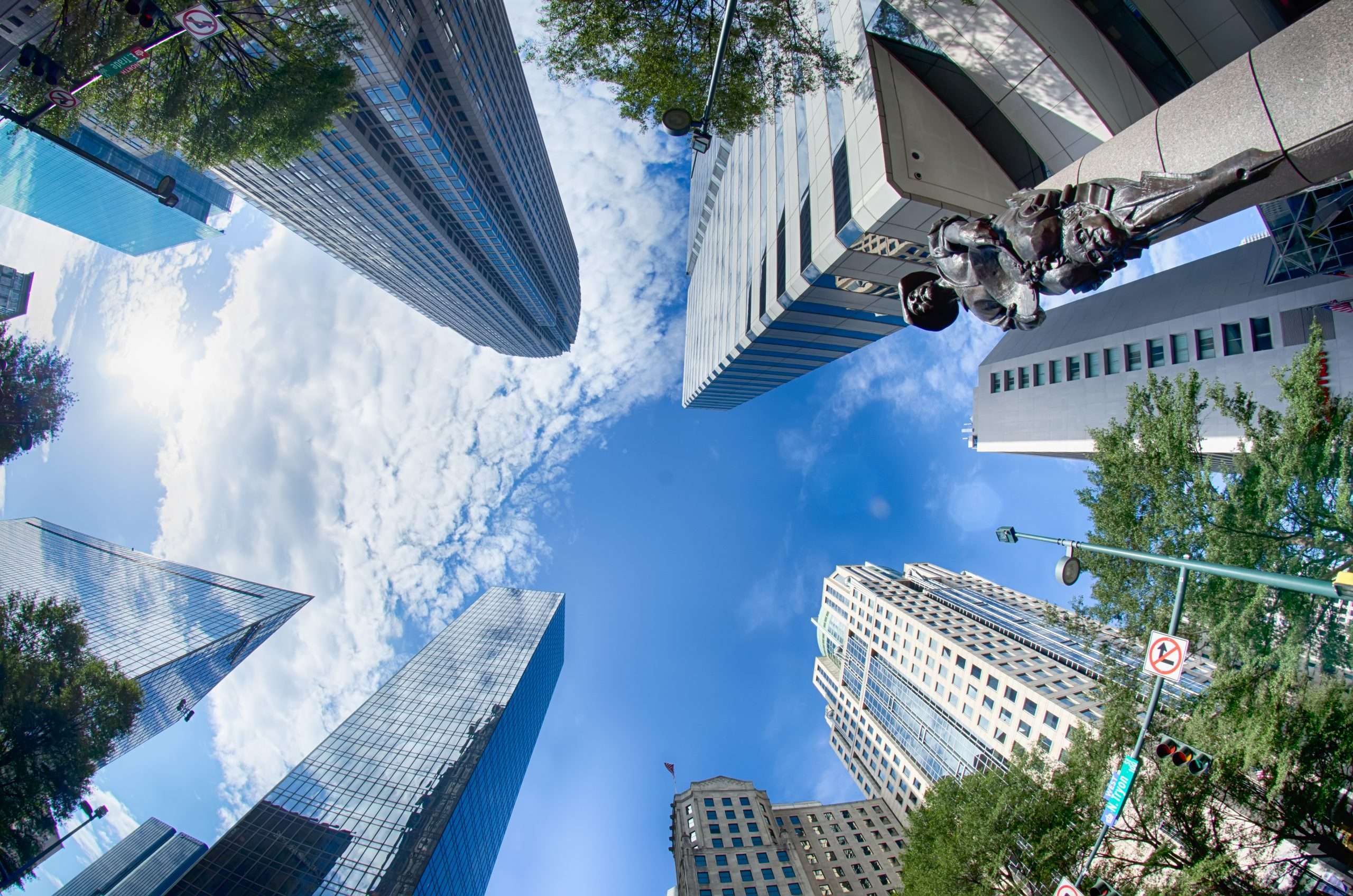 Charlotte Neighborhoods | Where to Live in Charlotte
Wondering where you should settle down in this beautiful city? Thankfully, the area is filled with exceptional neighborhoods that suit a variety of needs and preferences. Before relocating, it is wise to explore the best neighborhoods in Charlotte to find the spot that is ideal for you. Whether searching for the best neighborhoods in Charlotte for families, or communities that are ultra dog-friendly, you're guaranteed to find a place that you can't wait to call home.
Uptown Charlotte — Vibrant, sophisticated, and thriving urban community
Uptown Charlotte, which is also referred to as the Charlotte city center, is literally at the middle of it all. As an exceptionally desirable Charlotte neighborhood, this locale features everything you could want or need to live your best life. Benefits of residing in this part of town include its superior walkability, excellent access to public transportation, multiple museums, lush city parks, outstanding dining, and in-demand entertainment venues. Top attractions include the Spectrum Center, Truist Field, Bank of America Stadium (home of the Carolina Panthers NFL team), the Bechtler Museum of Modern Art, and Discovery Place Science.
Dilworth — Peaceful suburban-urban hybrid neighborhood that borders Uptown Charlotte
Want to be close to it all, but far enough away from the busyness of city life? Dilworth is a marvelous choice for those who are seeking the best of both worlds. Bordering Uptown and South End, residents of this tranquil community enjoy close proximity to Latta Park, the children's hospital, and a plethora of shopping and dining establishments.
Eastover — Serene and exclusive suburban community
Nestled away from the hustle and bustle of daily life, Eastover is a premier suburban neighborhood that is almost exclusively residential. Tree-lined roads are brimming with towering homes that are stately in appearance and style.
NoDa — Bustling arts and entertainment district
Located northeast of the city center, NoDa is one of Charlotte's best neighborhoods for arts, dining, and entertainment. NoDa, which is an abbreviation for North Davidson, has a trendy restaurant scene, encompassing craft breweries, gourmet ice cream parlors, and some of the city's highest rated eateries. Lined with repurposed industrial buildings, gorgeous murals, and brand new apartments, this part of the city attracts a younger demographic.
Charlotte Weather and Climate
Charlotte has a humid subtropical climate. As a result, summers are humid and hot, spring and fall are mild and pleasant, and winters are damp and chilly. Charlotte does not fully experience all four seasons. But you will want to keep snow boots, gloves, and jackets handy, since the city sees snowfall almost every year. Wondering if you need to prepare for hurricanes this close to the ocean? Thanks to its inland location, Charlotte does not experience the brunt of hurricanes that make landfall along the coast.
The best time to visit the city is during the spring and fall months. During these times of the year, daily high temperatures are in the 70s to low 80s. Humidity is also lower than it is during the summertime, making outdoor activities far more pleasant. The hottest month of the year is July, where the average high reaches 89°F. January is the coldest month of the year, with a daily average high temperature of 52°F.
Charlotte Restaurants
Known for offering eclectic dining options — and specializing in Southern comfort food — restaurants in Charlotte are outstanding. The city overflows with hip eateries, breweries, wine bars, and global flavors.
View this post on Instagram
Soul Gastrolounge. Delight your palate with delicious tapas inspired by cuisine from around the world. Featuring a cozy, trendy ambiance, enjoy the creative meshing of new and vintage records played nightly. In addition to the exceptional small plates, be sure to treat yourself to a one-of-a-kind craft cocktail. Soul Gastrolounge, 1500 B Central Ave, Charlotte, NC 28205, 704-348-1848.
Haberdish. When it comes to dining in Charlotte's NoDa neighborhood, Haberdish is easily the top pick. Branded as a Southern milltown kitchen and craft cocktail bar, guests can enjoy traditional Southern-style dishes with a refined twist. Top menu items include Cast Iron NC Trout, Smoked Deviled Eggs, and the showstopping Fried Chicken platters. Haberdish, 3106 N Davidson St, Charlotte, NC 28205, 704-817-1084.
Amélie's French Bakery & Café. Find the perfect sweet treat, including authentic macarons, French pastries, cakes, and more, at Amélie's. A long standing favorite in Charlotte, this bakery and cafe has expanded to three other locations in the area. This family-friendly restaurant is open for sit down and to-go orders. 136 E 36th St, Charlotte, NC 28205, 704-376-1781.
Things to Do in Charlotte
Researching fun things to do in Charlotte? Even after living in the city for years, you'll still find plenty to do, see, and experience. Family-friendly activities, dog-friendly parks, and spots for a romantic date night are all minutes from home.
Top Charlotte Attractions
Charlotte Entertainment & Arts
Charlotte Museums
Charlotte Parks & Outdoors
Shopping in Charlotte
SouthPark: Treat yourself to a high-end retail experience at this popular shopping mall. Stores include Anthropologie, Burberry, Lacoste, Coach, and Saint Laurent.
Cotswold Village: Accomplish everything on your to-do list by shopping at everyday stores such as PetSmart, Marshalls, and more.
Metropolitan: Delight in the many shopping and dining offerings at the centrally-located mall.
Map of Charlotte Things to Do
Sports
Locals have numerous Charlotte-based sports teams that they can cheer on throughout the year. From football to basketball, there is always a sporting event happening in town.
Top professional Charlotte sports teams:
The vast majority of games are played in Uptown. Main venues include the Bank of America Stadium (Carolina Panthers and Charlotte FC), Truist Field (Knights), and the Spectrum Center (Hornets).
Charlotte Crime Rate
The Charlotte crime rate is higher than national and North Carolina crime rates. When compared to the rest of the state, the city has a 70.9 percent higher overall crime rate, and a 98.8 percent higher violent crime rate. Additionally, property crime in Charlotte is 66.5 percent higher than in North Carolina. Violent crime is 101.5 percent higher in Charlotte when compared to the national average, with total crime being 88.4 percent higher.
However, there are plenty of safe places to live located throughout Charlotte. Some of the safest neighborhoods include Wessex Square, Providence Plantation, Sharon Woods, and Sardis Forest.
Here's a Charlotte overall crime rate comparison with other major cities:
Asheville: 40.9 percent higher
Raleigh-Durham: 78.3 lower
Columbia, SC: 25.5 higher
The city is monitored by the Charlotte-Mecklenburg Police Department, which employs 1,823 officers on the force.
Economy and Jobs in Charlotte
Residents of the city enjoy ample places to work across a multitude of industries. They are also paid high yearly salaries (when compared to state and national averages). According to Payscale, the average per capita income in Charlotte is $71,000 per year. Hourly wages for local residents currently sit at $18.51. Additionally, for the Charlotte-Concord-Gastonia Metro Area, the GDP was 184,818.577 in 2020.
Charlotte has excellent job opportunities for a variety of industries. The city was named the 5th best city for jobs in the U.S. by Forbes in 2018. Top industries include financial services, banking, energy, automotive, healthcare, technology, retail, and manufacturing. Some of the biggest employers in the city include Bank of America, Duke Energy, Wells Fargo, Amazon, Atrium Health, and Novant Health.
No matter your field of work, finding an excellent position is relatively easy in this city. Start searching for top paying jobs in Charlotte.
Healthcare
Multiple healthcare companies in Charlotte have received national attention for their commitment to quality and excellence. For example, in 2020, Carolinas Medical Center earned the distinction of being named as one of the best facilities in the region by U.S. News & World Report. Around the city, residents enjoy the convenience of being located close to highly-rated hospitals and health centers. Area hospitals include Novant Health (which includes a children's hospital and St. Jude Affiliate Clinic), Atrium Health Mercy, and Carolinas Health Care System.
Charlotte Schools
One of the most noteworthy aspects of Charlotte is its educational opportunities. At every grade level — including college and beyond — there are outstanding schools throughout the city.
The public elementary, middle, and high school system is governed by Charlotte-Mecklenburg Schools. Schools in this district have earned multiple awards throughout the years. In 2014, 15 Charlotte-Mecklenburg magnet schools won national awards. On GreatSchools.org, many of the area's schools are rated with perfect 10/10 scores. All others have near-perfect scores that are incredibly impressive and hard to achieve. Noteworthy schools include Ardrey Kell High, Jay M. Robinson Middle, Harper Middle College High, and Bain Elementary.
Those looking to attend a university for their bachelor's, master's, or doctorate degree will find exceptional programs at The University of North Carolina at Charlotte. 30,146 students attend UNC Charlotte, which is located at 9201 University City Blvd.
Students and residents alike have the benefit of accessing the many resources provided by the Charlotte Mecklenburg Library.
Charlotte Utilities & DMV Change of Address
Upon relocating to the area, what's the best way to set up utilities and get your new license at the DMV? Whether coming from in or out-of-state, there are several tips that you can follow to make the process run smoothly.
First, change your address and/or start new services with the area's utility companies. Doing this is critical to ensure that you have running water, electricity, internet, and gas as soon as you move in. For your convenience, here is a list of utility providers in Charlotte:
Trash – City of Charlotte
EarthLink and AT&T – Internet
Once you've changed your address, or started brand new services with all of the above providers, it is time to change your address at the DMV. If you already have a North Carolina driver's license, you can update your information online. However, if you are moving from out-of-state, an in-person visit to the DMV will be required. New residents are required to get their new license within 60 days of becoming a permanent resident.
Documents that are required to obtain your North Carolina license include:
Your out-of-state license
Social Security card
A document that verifies your new physical address
Proof of insurance
Ready to plan your relocation? Enlist the expertise, knowledge, and top-tier customer service from our Charlotte movers at Make A Move. Contact us today at 704-378-8588 to get started.